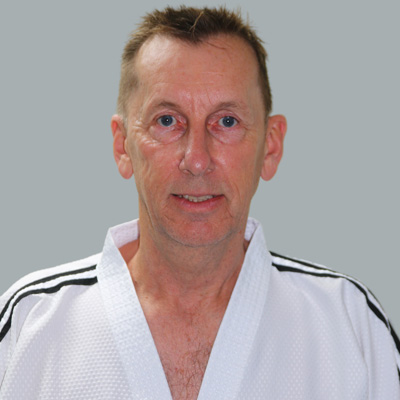 Grand Master Paul McPhail
The note you can see here is one of my treasures. A personal, handwritten note from the Founder of Taekwon-Do!
This was received after I had finished working with him on the Condensed Encyclopaedia in the late mid 90s. You can read the full story here.
That was certainly one of the highlights of my Taekwon-Do career, which began back in 1975. In those days martial arts wasn't really for kids – and in fact there were more than a few adults that resented having an influx of children to their training sessions! This was the martial arts craze of the mid-70's caused by the popularity of Bruce Lee. I was one of those kids – and managed to hang in there through some pretty tough times and come out the other side with my black belt in 1978.
I became a professional instructor in 1985, and I have managed to support my family doing Taekwon-Do since that time. My Taekwon-Do Schools are Paul M TKD and Warrior Taekwon-Do.
My Taekwon-Do dream came true in 2015 when I was invited to be on the ITF Technical Committee. What an honour it is to be working with the likes of Grand Master Marano, Grand Master Lan and the others. I have learnt so much and continue to learn every time we meet.
2015 was also the year I started TKDCoaching.com. It was something I had always wanted to do – and after 5 solid months of work, it launched on the 15th May 2015.
I am very happy to have you as part of my passion for this art.
If you would like more information about the TKDCoaching Membership please click here.
Regards
Grand Master Paul McPhail
9th dan – ITF