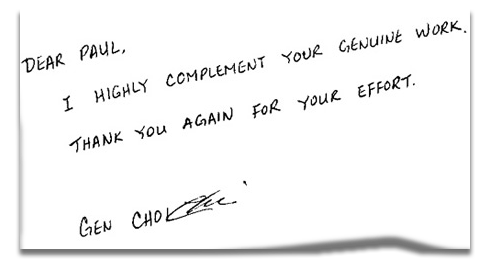 I was very fortunate to work with General Choi in the mid to late 90s on revisions to the Encyclopaedia of Taekwon-Do. The full story is below.
It was a great honour for me to receive a small note from him after the work was complete.
And he gives me far too much credit in this video below, filmed at the 1998 seminar in New Zealand.
Master Paul McPhail
The 1999 Edition
The 1999 edition of the Condensed Encyclopaedia was the final version authorised and published by General Choi Hong Hi, the Founder of Taekwon-Do.
I had the honour of working with General Choi on the revision of this edition, culminating in a photoshoot in Canada, April 1996. It was a real thrill to have two photos of myself included in the edition: Hwa-Rang movement 12 (p546) and Choong-Moo movement 15 (p547).
The plates for the book was already in New Zealand as we had printed the previous edition here, so after making changes to the film it was shipped to Canada for the final printing.
Below are the changes approved by General Choi, so these are the differences between the 1999 and the previous edition (1995).
1999 Condensed Encyclopaedia Changes
Below is a summary of the changes found in the Patterns Section of the 1999 Condensed Encyclopaedia. They are the modifications made from the previous edition printed in 1995.
GENERAL TYPOGRAPHICAL CORRECTIONS
There have been a number of general typographical corrections made, such as correct labelling of photos and replacing missing letters of pattern diagrams.
NEW PHOTOS
There are new photos in the new edition. There are:
Toi Gye movements: [3] [20] [28] [29]
Hwa Rang movements: [12] [19]
Choong Moo movements: [15] [27]
Choong Jang movements: [12] [50]
Moon Moo movements: [53b]
CORRECTIONS TO WORDING
Toi Gye:
[8] Perform 7 & 8 in a continuous motion has been added.
[36] Direction of the circular block is changed to AD
Hwa Rang:
[21] Direction of punch has been correct to read C
Ge Baek:
[30] 29 & 30 are in a connecting motion (not continuous)
Choong Jang:
[27] Bring the right palm on the left backhand (not back forearm)
Juche:
[2-3] & [14-15] Hooking block/punch no longer continuous
[34] & [36] Now dodging reverse turning kick
Sam-Il:
[24] Wording change: Lower your left foot to line AB then move your right foot to form an L-stance
Yoo-Sin:
[4-5] Hooking block/punch no longer continuous
[6-7] Hooking block/punch no longer continuous
[10-11] Scooping block/punch is connecting motion
[29] punch clarified as a middle punch
Choi Yong:
[32-33] & [39-40] Hooking block/punch no longer continuous
Yon Gae:
[10-11] & [21-22] Hooking block/punch no longer continuous
[28] Kick while pulling the hands in front of the chest
[46] "pulling the left side fist in front of the right shoulder" has been clarified
So-San:
[14] High side piercing kick (was middle)
Tong-Il:
[24] & [25] pressing blocks are slow motion
OTHER CHANGES
There were changes made in other sections of the book as well. Some of these include:
[52] Openfist photo (GM Chuck Sereff)
[148] [149] Sinewave photos
During the whole process, I made a number of suggestions for photo edits to General Choi. Some of these suggestions he accepted and we replaced many photos, and others he just refused.
One of the interesting, perhaps even hidden changes, was the photo of Master Park Jung Tae doing the side thrusting kick in Moon-Moo tul, movement 53.
The kick should be middle, but the photo clearly showed him kicking way above his head. General Choi really wanted to leave Master Park's photo in, so I suggested a digital edit instead.
So with a bit of photoshop work Master Park is shown kicking at around his shoulder height and General Choi was happy. I don't think Master Park ever knew… I wasn't going to tell him.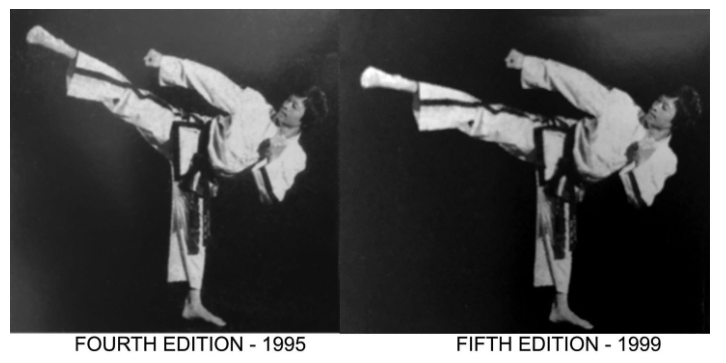 If you would like to learn more about this website and what I offer ITF Taekwon-Do practitioners, please click here.