Kubz Instructors Course for Members
TKDCoaching Members can gain access to a Full day Kubz Instructors' course taught by the program creator himself Master Mark Hutton!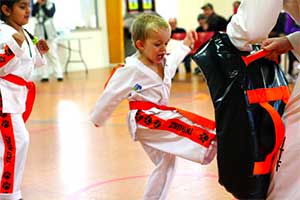 The course video has been divided into 67 clips, The first 6 videos are available to Members now, with the remainder available to Members and Kubz Instructors with permission of Master Hutton.
Regardless of whether you have a Kubz class or not, this course will give you many useful tools for teaching children – and adults for that matter!
The program is all about building great communication skills, with simple drills specifically designed for Taekwon-Do.
PART 1 contains 28 videos and includes:
Introduction & Syllabus Outline
Kubz is about communication
Syllabus outline
You don't have to be like me
Running a Kubz Class
The Kubz bow
Games
You can teach them anything
All discipline is brief
Stop look & listen
Yellow Stripe – Safety theme
Yellow stripe safety
Run, yell & tell
Hi Mums and Dads
You are not coaches
Assessments and ideas for sessions
Practical assessments
Counting to five
They'll do what they are told
Orange to White Re-cap and more Assessments
Syllabus recap
Enthusiasm
Role Play and White-Orange Re-cap
How to find a partner
Role playing "No!"
White – Yellow recap
Pad Drills and having a buddy
Pad drills and managing kids
Respect and discipline
Buddy system
Special Needs and Special Parents
Special needs kids
The parents
PART 2
Master Hutton Teaching Kubz
The Kubz arrive
Banana Tag
Counting In korean
The Jungle Game
Kubz on Pads
Look & Listen
Re-Cap and Strong Voice
The Kubz Gradings
How to grade Kubz
Grading Structure
Green Stripe Level
Etiquette
Class Dynamics
Green Stripe – Kubz Courage
More Games and How to Lose them
The Square Game
How to Lose
Race of Automatons
Self Defence Drills & Training
Self Defence Drills
Have Intent
What is a black belt
I'm all core
People, Language and Green Re-cap
Language barriers
Recognition game
Syllabus questions
Everything's communication
Don't flog a dead horse
PART 3
How to market yourself and your club
Phone technique
What to say on the first day
The sky child
Sell yourself
Meet the parents Role play
Tricky kids and how to handle them
The child that won't look
The bathroom
How to meet & greet
Religion, Money and Difficult Parents
Different religions
Money
Injuries
Things and not black & white
Aggressive parents