The TKDCOACHING APP is now available for free download.
We have designed a very simple app with the primary goal of making it easier to watch our videos.
Download the app and instantly watch over 40 free videos. If you are a Premium member  you won't have to remember your password again and you can download the Premium Videos to your device to watch off-line.
NEW IN v3:
– "JUMP BACK IN" with the last videos you were watching
– Full screen and forward/back controls added to videos
– Sign-in with Facebook and more…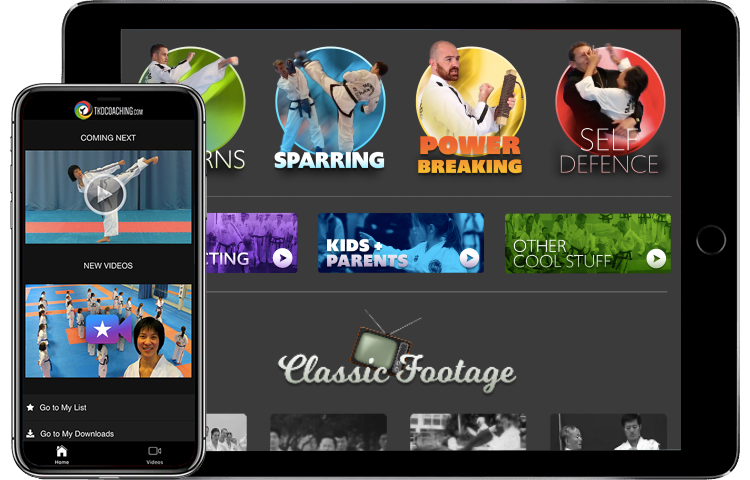 V4 AVAILABLE ON IOS | V4.1 on ANDROID
...so much content! We are learning Moo Moo and your step by step guide is unquestionably one of the best I've seen. Great resource and at our fingertips with the app - can't thank you enough.

I find the TKD Coaching to be a fantastic tool, and the fact that it is now accessible through an App, means I can easily access TKD Coaching through my phone at any time.

5-stars in every respect Excellent content and in a very easy to use format. Really like the "Watch Later" feature - it's going to be very handy. You know this content is the best, because it's all personally produced by one of the best there is, and all taught by very talented and experienced instructors.

I've been a subscriber to the TKD Coaching website from the start. The app now makes it much easier to access the resources in the mobile world. Easy to navigate & the ability to download videos is very welcome.

Great content at the tips of your fingers. The TKDCoaching website was already a great source of quality ITF Taekwon-Do content, but this app makes it even simpler and more convenient to use the service. Highly recommended.

great app, easy to use, i like that you can save a video to watch later and it starts from where you left it

Really enjoying the app. easy to use and good to hear the instructors of each special course share personal stories and importance of state of mind as well as techniques. slow mo and side by side for patterns super helpful too especially for intermediate positions and correct crossings

A great app which features hundreds of hours of first class instructional videos from some of the very best Taekwon-Do instructors in the world. New material is regularly added also. Highly recommended.

So fantastic to have this as an App now. The work that Master Paul McPhail has achieved is nothing short of miraculous. The content is informative, easy to access and professional. If I could rate this 10 stars I would!! If you are a serious instructor download this app immediately!! Taekwon!

Excellent layout. Easy to use and understand. Some images aren't coming up in the video menu page but I'm wondering of that's my phone rather than the app. A great tool for anyone wanting to improve any aspect of their TKD.

Best ITF Taekwon-Do online learning platform! highly recommended!

Amazing and helpful App. Being new to Taekwon-Do, this app is a great help for me to learn the material from a visual perspective, being as I suffer ADHD and dyslexia. Thanks.

WOW! This exceeded my expectations. So great for Premium Members to easily watch the Premium Content. Ability to download videos to my phone is excellent too.

This is the best ITF Taekwon-Do app that I've been able to find. Heaps of great video content.
If you are not currently a member, download the app then watch all our free videos and even upgrade to a Premium Account if you wish right there in the App.

Premium Members have access to all our Videos – highlighted with our Premium Star.
Premium Members can Download Videos to their Device
Premium Members can save Videos to MY LIST to watch later.
Learn more about our
PREMIUM MEMBERSHIP HERE.