Install the TKDCoaching App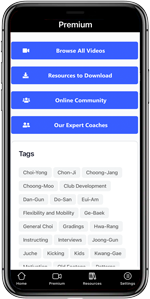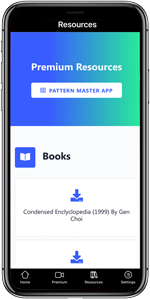 DOWNLOAD THE APP FREE
The TKDCoaching app makes it easy for anyone to watch free content, and for our Members to view over 250 hours of instructional videos, as well as access to a library of written resources. It's the easy way to stay up to date with our latest releases as you will be the first to know as we upload new content.
The App now makes use of the Tags facility, making it easy to find the videos you want. It is also now possible to download PDFs and other documents from the Resources section – previously only available on desktop. 
CLICK THE ICON BELOW TO DOWNLOAD


So much content! We are learning Moo Moo and your step by step guide is unquestionably one of the best I've seen. Great resource and at our fingertips with the app - can't thank you enough.
I find the TKD Coaching to be a fantastic tool, and the fact that it is now accessible through an App, means I can easily access TKD Coaching through my phone at any time.
5-stars in every respect Excellent content and in a very easy to use format. Really like the "Watch Later" feature - it's going to be very handy. You know this content is the best, because it's all personally produced by one of the best there is, and all taught by very talented and experienced instructors.
I've been a subscriber to the TKD Coaching website from the start. The app now makes it much easier to access the resources in the mobile world. Easy to navigate & the ability to download videos is very welcome.
Great content at the tips of your fingers. The TKDCoaching website was already a great source of quality ITF Taekwon-Do content, but this app makes it even simpler and more convenient to use the service. Highly recommended.
great app, easy to use, i like that you can save a video to watch later and it starts from where you left it
Really enjoying the app. easy to use and good to hear the instructors of each special course share personal stories and importance of state of mind as well as techniques. slow mo and side by side for patterns super helpful too especially for intermediate positions and correct crossings
A great app which features hundreds of hours of first class instructional videos from some of the very best Taekwon-Do instructors in the world. New material is regularly added also. Highly recommended.
If you are not currently a member, download the app and watch our free videos.
Members – you have access to all our Videos in the app.