Premium Members: You can log-in to the website by requesting a new password here:
Trouble Shooting the App
We suggest to watch the video first as this answers a few questions relating to our App.
Why can't I see any of the Premium Videos?
If you are a Premium Member but you can't see the premium videos because of an UNAUTHORISED message, the first thing to check is that you are actually signed in.
To do that, click the menu on the top left side of the app. When you do that you should see your name.
If you don't see you name then simply sign-in.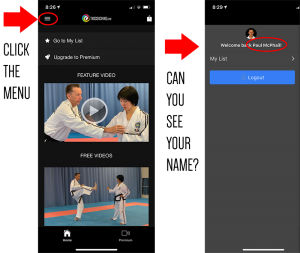 But I'm sure I signed in...
Another way to check if you are signed in is by looking at the app home screen. If you see a menu saying "Upgrade to Premium" then you also know you are not signed in.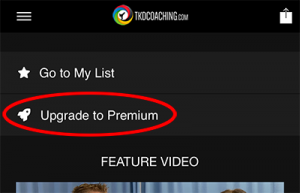 I'm Signed-in but I still get an "Unauthorised" message
This probably means your Premium Membership has expired or isn't working for some reason. Please email us right away so we can take a look.
I use Lastpass for my passwords and I can't sign-in
For some reason Lastpass sometimes doesn't work with the app. Go into your Lastpass vault and manually copy your password, then paste that into the app. That should work.
Why can't I get hear any sound?
If the videos are playing with no sound, it is normally because you have the mute switch on your phone turned to silent or vibrate only. You could try using headphones to check the sound is there, then make sure the volume is turned up. If the problem persists try deleting the app and re-installing it.
Why does the App not work off-line?
The App requires an internet connection to read our website. If you are a premium member and want to watch videos when you are off-line, such as on a flight, then download the videos to your device first and leave the app open. Once off-line click the downloads menu on the top left of the app to watch your videos.
I'm signed in but I still can't watch the premium videos
This may be due to your premium membership expiring without you knowing. Often email messages about this can go to your spam folder so they get missed. Drop us a line and we will check it out.
Where can I get the App?
The App is available for free download from the Apple App Store or Google Play Store. Even if you are not a premium member you can still use the app and watch all our free videos. Get the App here.
Premium Member Trouble Shooting Questions
How do I access the videos?
Premium Members sign in at the top of the website then navigate the PREMIUM CONTENT menu. If you are not a Premium Member you will see some of the videos that the there on that page, but you won't be able to view them.
Once I am a Premium Member, where do I log-in?
See the image below for where to access the Login screen on desktop and mobile.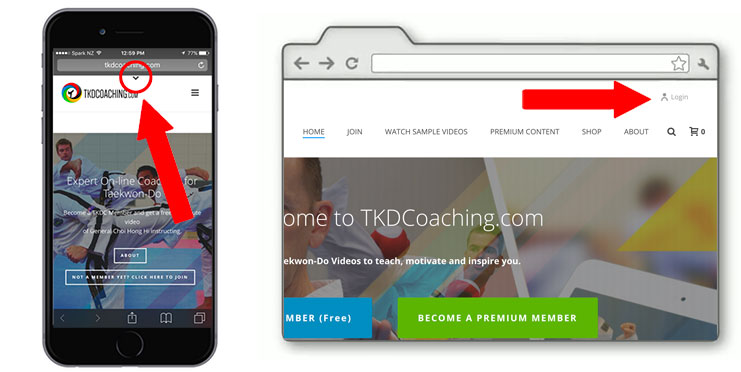 I'm having trouble logging in!
Premium Members: You can log-in to the website by requesting a new password here:
If you can't sign-in or are having trouble with your login or password remember that you must use the "username" you selected when you first registered – which is usually your email address. If you have forgotten your username or password please email us and we will get right back to you.
To sign in on a desktop computer click the Top Right of the screen to access the sign-in area. On mobile, click the down arrow (top centre) to access.
When I try and log-in a get a Error saying "Request Header or Cookie Too Large"
These kind of errors are normally because you have too much old stuff in your computer browser. Clear your browser cache and that should fix it.
How to do this will depend on your computer and the browser you are using. Google "how to clear your browser cache" for instructions.
How do I update my credit card?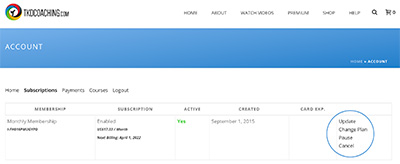 To pause, downgrade or cancel your subscription, simply go to  Subscriptions Tab. 
How do I upgrade my Premium Membership?
It is easy to upgrade from Monthly to Yearly or even to our Premium for Clubs memberships.
Our system will calculate what you have already paid and adjust the first payment to account for that.
To upgrade, Click EDIT PROFILE, PREMIUM ACCOUNT PAGE then click on Subscriptions. Then click on CHANGE PLAN.
I have a CLUBS membership, how do I add my club members?
Here is a video of how to add your club members.
General Questions
What is the purpose of this site?
This website is the dream of Grand Master Paul McPhail, 9th dan, to create the best quality ITF on-line coaching video resource in the world. The purpose is to offer ITF enthusiasts like you the opportunity to learn from great coaches no matter where you are located. It is now available for CLUBS with a special discount for up to 6 club members – all with full access.
Are the videos ITF approved?
No. Although Grand Master McPhail is a member of the ITF Technical Committee, it is not possible for him to check every detail of every video. He allows the coaches the freedom to teach without restriction. Therefore some coaches are more tournament focused than others – and it is up to you to assess the value of each video with this in mind.
What videos do you have planned for the future?
We have so much quality content to come, the most difficult thing is to decide which to release next! We have some great sessions already filmed, plus plans for special workshops on stretching, flexibility and kicking. We are also expanding to be able to feature more overseas coaches. In time we plan to cover all 24 patterns, step sparring and other aspects of the general ITF syllabus and more.